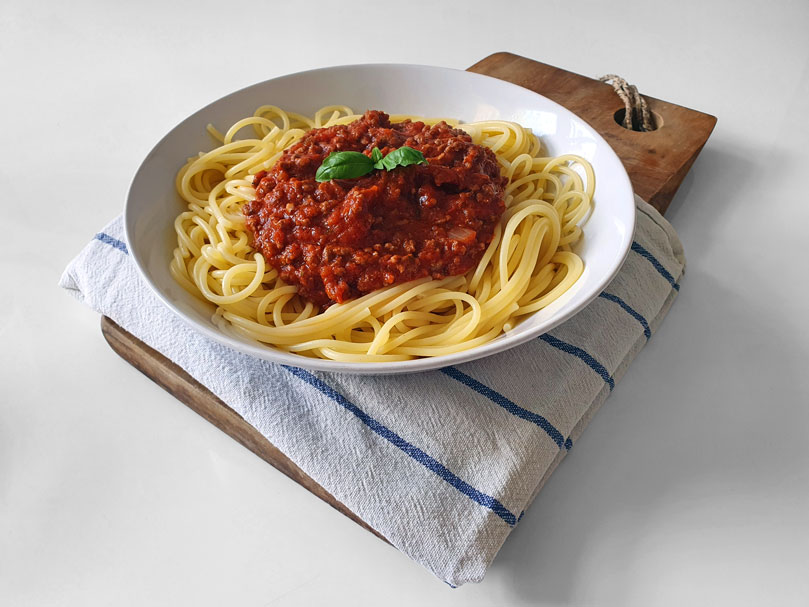 Whether you call it "Spag Bol", "Spag Bog", "Spaghetti Bolognese" or "An Insult to Italian Cuisine", there is no doubt this family favourite hits the right notes with the vast majority of people outside Italy. If you've come here in search of the "original" or "authentic" bolognese taste, you've clicked your way through to the wrong corner of the internet (you got close, but you're still a click away).
Today we will be recreating a jar of the red nectar - Dolmio Original Sauce for Bolognese - in all its glory. The full analysis can be followed through The Bolognese Story, but those words are of no use to you…
You are an instant gratifier who craves the convenience of jarred spaghetti sauce and you need it RIGHT NOW!
The global pasta sauce market was valued at $13.47 billion in 2019 and a small slice of that is your money. It's time to take it back! It is incredible that so much value has been generated with such a short list of ingredients, but you have to give the Dolmio scientists and mixologists full credit for perfectly balancing the taste with the levers at their disposal.
It is worth taking a closer look at what makes up one of those jars.
Tomatoes
Unsurprisingly, Dolmio is packed full of tomatoes. Fortunately for us, knowing precisely how tomatoey Dolmio is is straightforward as it's written on the packaging. In order to match Dolmio's intense tomatoey hit we'll be building on a base of 400g of Cirio tinned chopped tomatoes and 50g of Napolina tomato puree.
The Cirio brand does an excellent job of preserving the very best of Italian produce in their tins and will harvest and can the fruits at their peak. The canning process also adds to the flavour as the mild pressure of the sealed tin squeezes out the umami goodness from the tomato membranes. They really are delicious.
I've gone for Cirio's tinned chopped tomatoes over their peeled plum range, which I find are slightly "fruitier" and more appropriate for the taste we're trying to simulate. 50g of tomato puree is a lot and adds to the depth of flavour.
Sugar
There's no doubt that Dolmio is sweet - there's the equivalent of a whopping 6 and a bit sugar cubes per jar! 27.2g of sugar per 500g feels like a lot but don't panic too much about this statistic.
Most of the sugar comes from the tomato, the tomato paste and surprisingly the humble onion adds its fair share. This will be a combination of unrefined fructose and glucose, which is at the more respectable end of sugar intake. You're just going to have to accept that if you're on the tomato train there's going to sweetness!
To this naturally sweetened combination, we unnaturally add a comparatively modest 5g of caster sugar, or about 1 teaspoon.
For some, it may be tempting to limit the sugar content and not add this teaspoon of caster. Be warned, however - the balance of sugar, salt and acidity is well considered and should be respected if you want to recreate the Dolmio flavour.
Salt
There's nothing too outlandish about the measure of salt in a jar of Dolmio. 3.4g of salt per 500g jar is fairly modest by pre-packaged food standards and equates to just over half a teaspoon. You are likely to taste saltier pasta dishes in a restaurant.
Acidity
Balancing the right level of acidity against such a sweet sauce is imperative, and the convenience ingredient of choice in the Dolmio factories is citric acid. Citric acid occurs naturally in citrus fruit and gives us a massive hit of sourness delivered through tiny crystals.
You don't need much to pack a punch, with only 1g (just over ⅛ of a teaspoon) required to balance all that sugar. Its importance cannot be overstated - without it you'll end up with a sickly-sweet and dull sugary taste.
It can take a bit of effort to find citric acid on the high street. It's available in some pharmacies but your best bet is to order it online. If you need further incentive, citric acid has other uses - a teaspoon added 50g icing sugar and a teaspoon of bicarbonate of soda and BOOM! - you have sherbet!
Assembly
The final ingredients give us the "True Taste of Italy". What feels like a generous helping of basil with a touch of garlic, onion, pepper and a smidgen of parsley completes the flavour. A little cornflour thickens the sauce which is now ready to be poured over browned beef mince.
Taste
The final taste is delicious!
It is faithful to the original but does have a slightly different taste. Dolmio has a more of a caramelly sweetness whereas our Spag Bol is best described as "fruity". The difference most likely down to the fructose and glucose of our high quality tomato products, compared to the refined added sugar Dolmio will be using to boost their cheap tomato products.
The combination of tomatoes with the added sugar, salt and citric acid gives a perfectly balanced "Tomatoes 2.0" flavour - the ultimate comfort food!
Click here now to read the full The Bolognese Story!
Ingredients
Serves 2 with leftover sauce.
Sauce can be refrigerated or frozen.
Bolognese Sauce (Serves 4)
1 x 400g tin of Cirio tomatoes
50g Napolina Tomato Puree (about 9 teaspoons)
30g brown onion, finely sliced (about ¼ medium onion)
5g caster sugar (1 slightly heaped teaspoon)
3.4g salt (1 slightly heaped ½ teaspoon)
4g cornflour (1 heaped teaspoon)
3g sunflower oil (¾ teaspoon)
1.5g basil (about 3 teaspoons or 8 large leaves)
1.5g garlic, finely sliced (¼ a large clove or ½ a small one)
0.3g parsley (a couple of leaves)
1g citric acid (¼ teaspoon, with a little heap)
A couple of grinds of black pepper
1 x 400g Aberdeen Angus 10% fat beef mince (plus 2 tablespoons sunflower oil for frying)
Pasta (serves 2)
250g (half a pack) De Cecco Spaghetti no. 12
2.5 litres water
25g salt
Assembly (serves 2)
100g essential Waitrose English grated cheddar, strength 3 (or equivalent)
2 small presentational sprigs of basil
Directions
Add the oil to a small non-stick pan on an extremely low heat
Add the onion and cook for 10 minutes, stirring regularly.1
Meanwhile, prepare the sauce by combining the tinned tomatoes2, tomato puree, caster sugar, salt, cornflour, basil, parsley and black pepper in a deep beaker. Stir with a fork.
Add the garlic to the onion mix and cook for a further 5 minutes.
Pour the tomato sauce into the same pan as the onion and garlic mix and blend to the desired consistency.3
Take the tomato sauce off the heat.4
In a wider pan, brown the mince in 2 tablespoons of sunflower oil. Break the mince down regularly with a wooden spoon, exposing the pink meat to the bottom of the pan. Cook on a medium heat for about 10 minutes, or until the meat is brown all over.
Transfer the mince and tomato sauce to a medium pan and place on a low heat for 15 minutes, the mix can bubble but should not boil.5
Meanwhile, fill a large pan with 2.5 litres of boiling water and bring back to the boil under a high heat.6
Add 25g of salt to the boiling water, then push the spaghetti into the water until it is fully submerged7.
Stir the spaghetti at regular intervals, particularly at the start of cooking, to ensure there are no strands of spaghetti sticking together.
Cook for about 9 minutes8.
Pour the pasta and water into a colander in the sink and transfer to two bowls with tongs. Make a "spaghetti well" in the bowl.
Ladle ¼ of the bolognese sauce into the "spaghetti well" for both dishes.
Garnish with a couple of sprigs of basil and serve immediately with the cheese in a pot to share.
Cook's Notes
It's important to keep the heat very low. With so little oil you could easily caramelise or burn the onion, which is not the same flavour as the onion in a Dolmio jar. I suspect they blanche or boil their onions.
To hit the exact sugar quantity of a Dolmio jar you should actually leave a tablespoon worth of tomatoes in the tin and replace it with a tablespoon of water. I followed this completely unnecessary step, but wouldn't force it on you, dear reader. The one advantage is that you can have half a mouthful of the tinned tomatoes and see just how good they taste on their own.
I removed all chunks from my sauce, but Dolmio does preserve some texture of onion and tomato, so feel free to blend all but a small amount of the sauce.
There's no need to cook the tomatoes, they will be heated up when combined with the mince and there is a risk of caramelising this high sugar mix.
Again, we are keeping the heat as low as possible to avoid a reaction from the sugar. If you keep the heat low you can cook for a longer period of time.
I'll be using about 2 litres of boiling water for this quantity of pasta.
You will need to use a kitchen implement to push the pasta under and to stir. I use a normal fork but am prepared to let my hand get hotter than most.
I will never actually cook pasta to time, instead I choose to regularly nibble on strands from about 7 minutes onwards. It's a good way to teach yourself the al dente taste. This is the last bite where the pasta stops having a chalky texture. Once you know what you're doing you can time the last bite to still have a very slightly chalky texture and let the spaghetti continue to cook as you assemble the dish. This is a bit of a risk for your first outing, however.