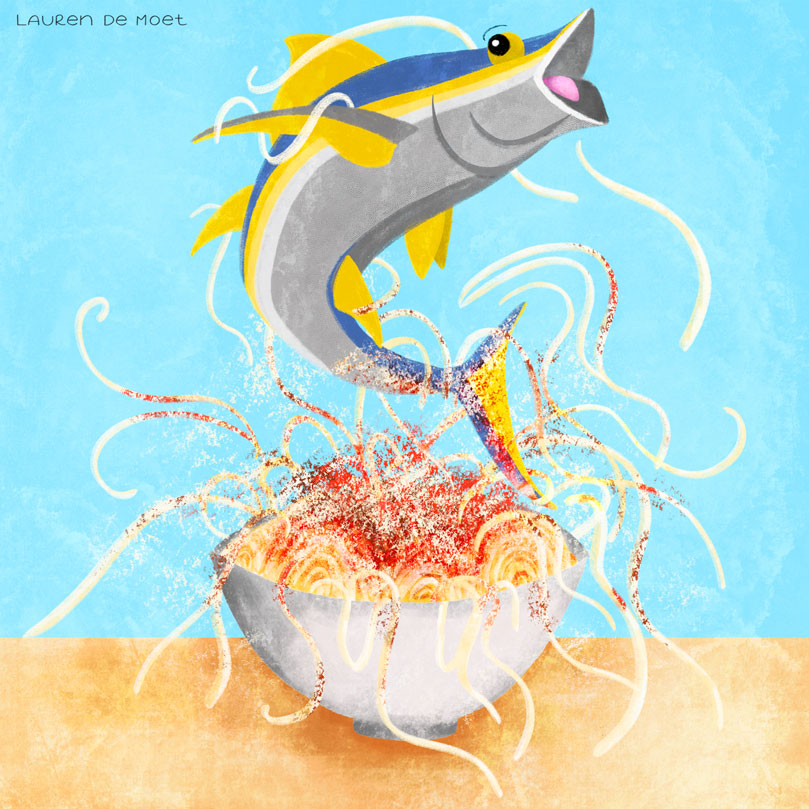 It is important to first consider this dish in isolation, without any of the context of spaghetti bolognese.
When I looked at the ingredient list I thought this was going to be almost identical to the Napoletano we sampled earlier. Up until you add the tuna, there are only a handful of differences between the dishes, but the contrasting flavours are striking.
It's almost completely down to the fats favoured for each recipe.
Our Spaghetti all Napoletano uses butter, and the resulting salsa had a creaminess about it. Although both preparations had roughly the same amount of cooking time, with almost the same volume of tomatoes prepared in exactly the same way, the Napoletano was significantly more "saucey". The taste was thicker and fuller.
By contrast the spaghetti con il tonno alla bolognese, built on a base of olive oil, had a watery quality. With the salty savouriness of the anchovies, this tomato salsa had a subtle taste I would associate with "freshness".
It's incredible how, with an almost identical list of ingredients, the two flavours end up taking such divergent paths.
As I've mentioned before, in my ignorance of the nuts-and-bolts of Italian cooking I would never have started to build an Italian tomato sauce with butter. My sauces would have always been initiated with a rich olive oil. It has been one of the biggest eye openers in this quest to understand Italian food.
Olive oil is absolutely the right choice for a tomato sauce with tuna, or indeed any other fish. However, I would now have to think long and hard about whether it should be the base for any other tomato sauce.
Choosing butter as your fat for a Napoletano gives the dish a perfect richness, and I would not consider using olive oil for anything similar. As I realised with our tagliatelle al ragù alla bolognese, the tomato butteriness was the perfect bedfellow for slow cooked beef. I'm not sure what else that leaves.
Tomatoes belong with butter, unless you're pairing your sauce with an animal with gills.
So the sauce was great, but I have to say it deserved better than preserved tuna. I've had similar dishes in various coastal towns across the meditaranean, served with all manner of seafood.
Prawns, clams, octopus, squid, mussels or any combination thereof. Don't get me wrong, the tuna was as good as it gets, but is too meaty for the delicate flavour you could be building here.
The anchovies were optional and adding them was the right decision, but you would have been well served by stopping there and not including the tuna.
The second optional extra was the parsley, and we somewhat broke the rules by adding it. L'Accademia making it known that the permitted additions were anchovies or parsley, rather than anchovies and parsley.
Again though, this was a useful addition and added to the overall freshness of flavour, not to mention the aesthetics. It is fair to say that the Bolognan specialties we've built have not been the most photogenic of ensembles.
A sprinkling of parsley making this spaghetti dish much more Instagram worthy.
So the dish in its own right was good but not great. After all, it was just the same "tuna surprise" I've been cooking for decades. What about when we bring back all the context?
To think this dish could ever be associated with Christmas Eve just seems bizarre. I can picture having a plate of spaghetti con il tonno alla bolognese at the end of a hot summer's day as I overlook the Amalfi Coast, a glass of white wine in hand. It doesn't strike me as a meal to accompany a cold yuletide evening and some last minute present wrapping. Having said that, I'm sure northern Italians would think the same about us watching Die Hard, half-cut on mulled wine.
But the biggest travesty is what this dish represents in l'Accademia's back catalogue.
A permanent nail in the coffin of the spaghetti bolognese the British grew up with.
This dish isn't fit to tie the shoelaces of our spag bol, and it never will be!